Grassroots movements are transforming the landscape of climate solutions globally, addressing the multiplicity of root causes and effects of the climate crisis in lasting ways.
As part of our learning and evaluation process, we employed an Outcome Harvesting methodology to learn how our grassroots movement partners are advancing systemic and policy change to address the climate crisis. We analyzed 65 grant reports from 19 of our grassroots partners between 2015 – 2021 and identified 254 outcomes (social and political changes) influencing 285 actors.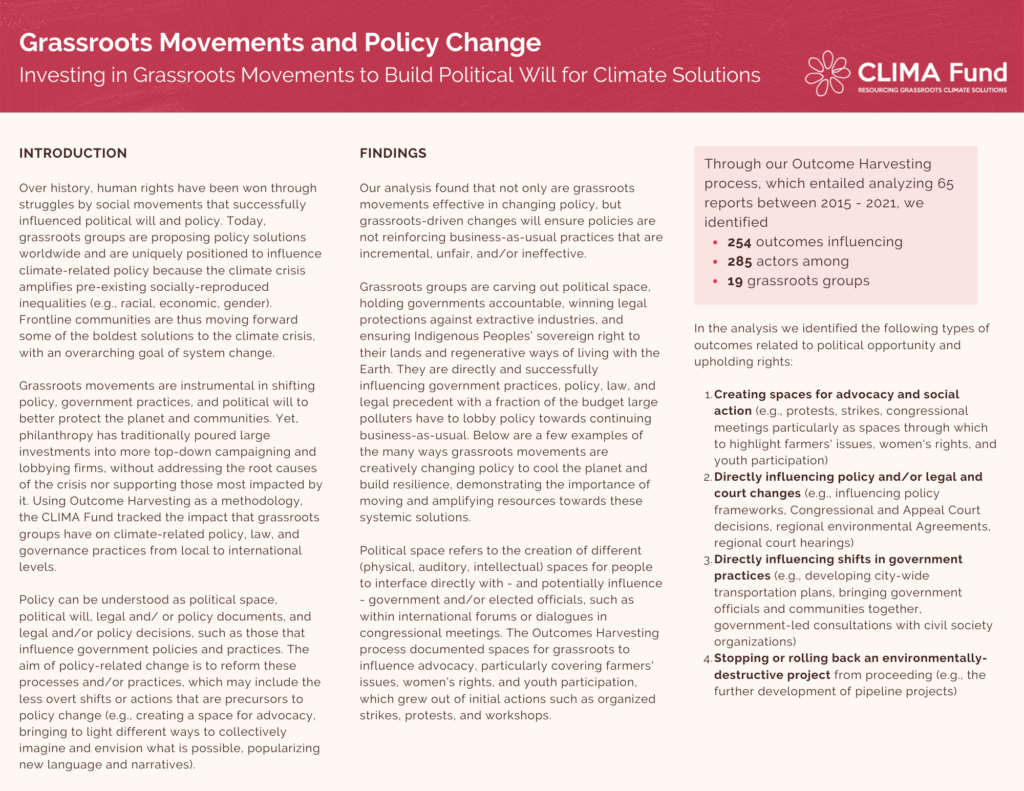 The Outcome Harvesting process helped us to better understand how CLIMA's funding to grassroots climate action is leading to effective and sustainable change. This brief captures just a few examples of how grassroots groups change policy. The brief demonstrates that grassroots movements are critical for advancing climate action commensurate with the scenarios in the recent IPCC reports. The brief provides further evidence that grassroots-led change creates results that are long-lasting, effective at cooling the planet, and integral to upholding social justice.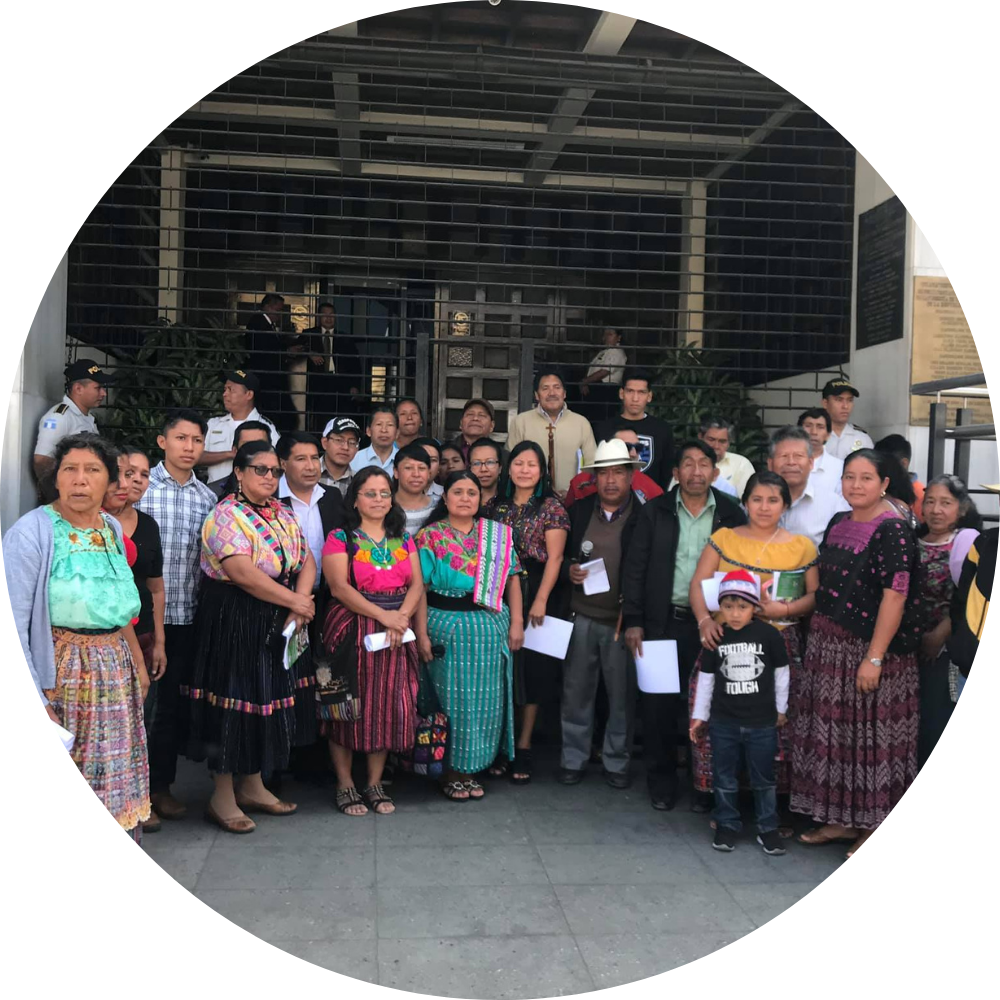 In 2020, the Constitutional Court re-established the rights of 28,500 hectares of land for the Cho'rti' people, following a provision that was filed by Bufete de Pueblos Indígenas to restore the rights and traditional administration of their land.
In a separate case, the Justice of Peace also granted a provisional injunction for the right of ancestral ownership of the land, which suspended the threat of eviction against the community Plan Grande. This occurred as a result of legal action in which Bufete de Pueblos Indígenas legally represented Plan Grande to defend their ancestral land.
Image courtesy: Bufete de Pueblos Indígenas.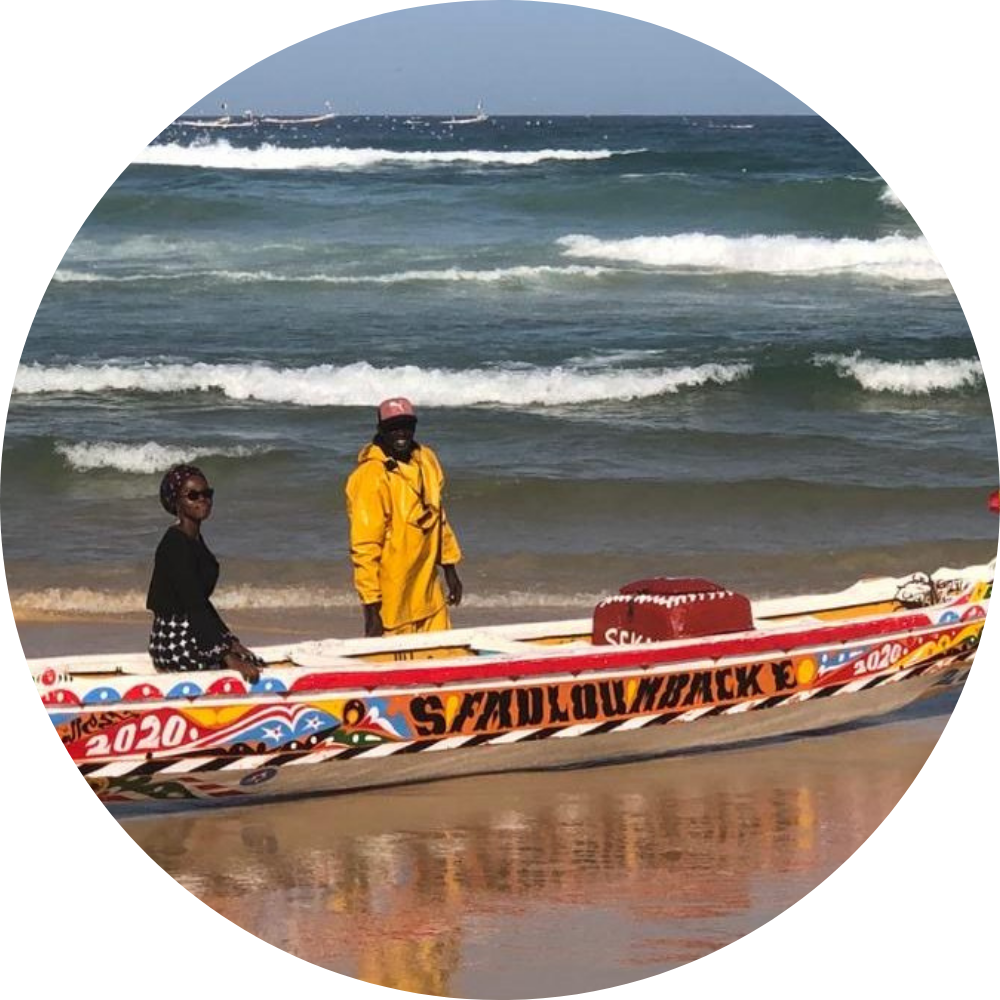 In 2020, the Minister of State for the Federal Ministry of Environment in Nigeria agreed to collaborate with the Health of Mother Earth Foundation (HOMEF) to create freshwater and marine protected areas, after HOMEF directly advocated to the Minister, released a paper on protected areas, and hosted an online convergence / school of ecology on freshwater and marine ecosystems.
Image courtesy: Health of Mother Earth Foundation.
To learn how grassroots movements are philanthropy's best bet to confront the climate crisis, read Grassroots Movements and Policy Change: Investing in Grassroots Movements to Build Political Will for Climate Solutions now.