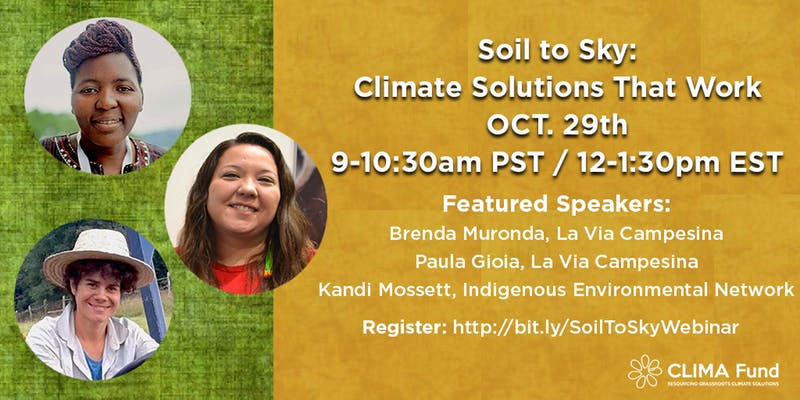 The climate crisis is escalating and grassroots climate justice movements are rising to meet our global emergency. The recent report Soil to Sky: Climate Solutions That Work connects the dots between seemingly "small" grassroots solutions, carbon mitigation, and building rights-based resilience for the long-term.
On October 29, 2019, the CLIMA Fund hosted a webinar to hear directly from some of those transforming our economies & cultures. This webinar presented human stories related to grassroots-driven responses: from agroecology and direct resistance of extractive industries to community-controlled renewables and Indigenous rights defense. We created a space for a conversation with three climate justice movement leaders about how grassroots solutions are cooling the planet & building power and resilience for the long haul.
Speakers:
We are grateful for our speakers for sharing their brilliance and vulnerability, to help paint a picture of our interlocking crises and the movements that are rising to respond and re-make the world.
Key Takeaways:
Brenda and Paula shared that agroecology feeds 70% of the world population, yet uses only 30% of agricultural land and water. Peasant farmers worldwide are struggling to adapt in the face of climate impacts, and in particular are threatened by industrial agriculture (e.g., GMOs, monocropping, land grabs). La Via Campesina is not just building solutions to a broken global food system (which contributes to about half of global greenhouse gas emissions), but is also re-imagining and lifting up democratic decision-making structures to ensure that those creating solutions are those directly impacted by our crises.
La Via Campesina works at the local, regional, and international levels, reflecting the interconnectedness of the crises they confront and the necessity of cross-scale organizing.
Kandi shared her story and the destruction of Indigenous land and waterways in her home of the Mandan Hidatsa Arikara nation of North Dakota. The fossil fuel industry has taken lives and livelihoods, and Indigenous movements are resisting globally to stop extractive industries at their source. Watch the recording to hear her stories directly.
The speakers emphasized that climate solutions should be justice-centered and warned against implementing technological fixes for systemic problems. Accepting REDD+, carbon trading, and similar 'false promises' would ignore historical and continuing injustices and allow harmful industries to maintain their social license to operate, continue their harmful practices, and violate environmental and human rights.
The speakers highlighted the importance of supporting grassroots solutions that come directly from the communities most impacted by the climate crisis, rather than top-down, global strategies.
You can find a recording of the webinar here.

"We are all interconnected. Sometimes local communities can feel hopeless, but global solidarity builds our power and strength."

Brenda Muronda

"If we are serious about combating the climate crisis, we need to be more radical."

Paula Gioia