New report shows grassroots climate justice movements are already forging a more just global food and energy future
PRESS STATEMENT
For media inquiries, please contact:
Gargi Sharma, gargi [at] climasolutions [dot] org
FOR IMMEDIATE RELEASE
GLOBAL — Today, the Climate Leaders in Movement Action (CLIMA) Fund released a new body of evidence demonstrating the efficacy of grassroots climate justice movements in transforming the global food and energy systems.
The report, Soil to Sky: Climate Solutions That Transform, connects the dots between specific stories of change and global impact, demonstrating how grassroots movements are already forging transitions from extractive agriculture and energy production to agroecological systems and equitable energy generation.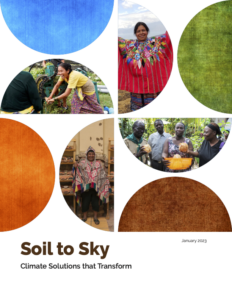 The food and energy sectors are the highest emitters of greenhouse gases globally. Yet, costly, unproven, and ineffective strategies are allowing continued pollution while distracting funders from supporting proven solutions. Peasant-led food systems already feed roughly 70% of the world's population by using less than 25% of agricultural resources. Investing in agroecology alone can counter 30-50% of global emissions and avoid the emissions equivalent China would emit by 2050.
"Soil to Sky: Climate Solutions that Transform should be essential reading for all food and agriculture funders who care about creating a more liveable world. I recommend this report for understanding the landscape of innovative agroecology and community-led food solutions." – Solomé Lemma, Executive Director, Thousand Currents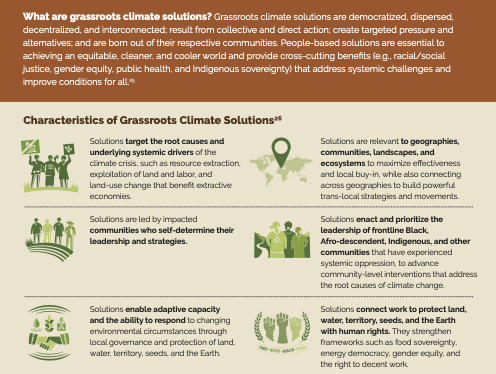 Keeping fossil fuels in the ground can prevent the release of 1,300 gigatons of CO₂e by 2050, equivalent to the standing stock of all global forests. Reaching 100 percent global renewable energy will avoid emissions equivalent to 6 to 13 years of global energy emissions, which we need if we are to prevent the worsening of the climate crisis and meet international emissions reduction targets.
"When the dominant global economy is structured around energy procurement, democratizing energy production is one of the most important actions we can take to create a more livable future. Soil to Sky: Climate Solutions that Transform shows us how community-led renewable energy is replacing the current paradigm of fossil fuels." – Laura García, President and CEO, Global Greengrants Fund
Societies must undergo unprecedented transformation to limit global warming to 1.5°C and prevent catastrophic impacts to the planet and its communities. Soil to Sky: Climate Solutions That Transform uplifts the solutions that have the potential to mitigate and reverse the most urgent crisis of our time. You can download the report here.
—
To learn more about how grassroots movements are changing the food and energy sectors and how funders can support this transformative change, please join our global Twitter chat on January 31st, 10 am PST / 1 pm EST. Follow along at @grassrootsfund and #SoilToSky.
About The CLIMA Fund:
The CLIMA Fund resources climate justice movements that are building local resilience and addressing the root causes of climate change. The CLIMA Fund is a collaboration between Global Greengrants Fund, Grassroots International, Thousand Currents, and Urgent Action Fund for Women's Human Rights. With over 130 years of collective experience in grassroots grant-making and annual budgets exceeding $60 million, the CLIMA Fund members have made over 20,000 grants to grassroots movement groups in over 168 countries. Learn more at our website and stay updated with us on Twitter and via our monthly newsletter.