A five-part online series for funders on grassroots movements, international solidarity, and the climate crisis.
The world is changing rapidly due to climate disruption, and that's not going to stop. But the direction and impact of those changes is still up for grabs. What role does philanthropy play in supporting action towards justice, collective health, and sustainability?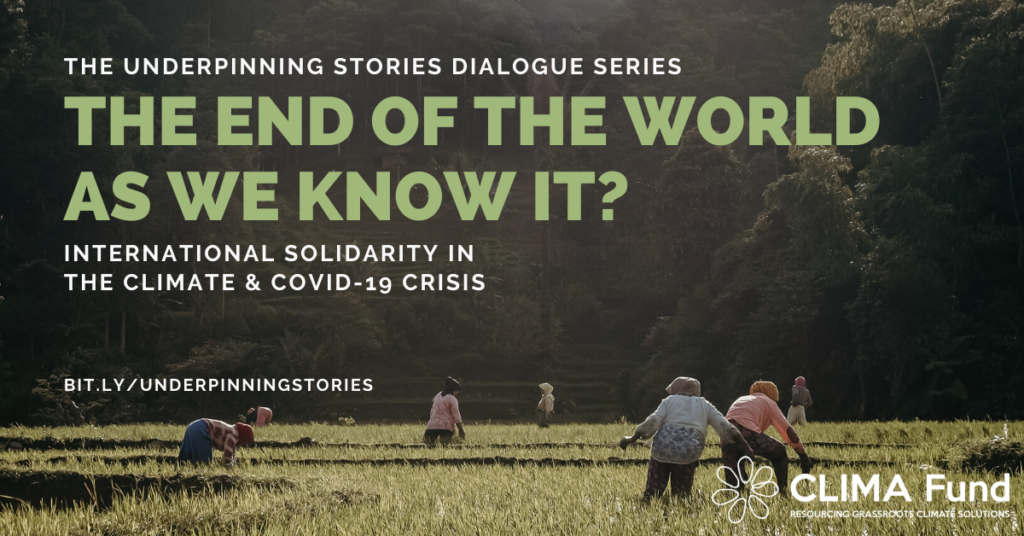 The CLIMA Fund organized Round II of our Underpinning Stories Dialogue Series The End of the World as We Know It?: International Solidarity in the Climate Crisis from April to August 2020.
In this five-part dialogue series, the CLIMA Fund and guest speakers from grassroots movements around the globe connected the dots across our global ecological and social crises, and how grassroots solutions are growing to meet the challenge. Each two hour session included presentation, dialogue, and breakouts that build on each other over the five online sessions.
Co-Sponsors:
Environmental Grantmakers Association, Confluence Philanthropy, Justice Funders, EDGE Funders Alliance, Human Rights Funders Network, Solidaire Network, New York Environmental Funders Network, and the Environmental Funders Network, Health and Environmental Funders Network
---
April 28: What is 'grassroots'? Why & how are grassroots movements the greatest hope for minimizing climate catastrophe?
Unpacking what 'grassroots' can mean and how grassroots movements are uniquely needed & impactful in confronting the drivers of the climate crisis and building the political power & self-determination to respond. This will include showing how grassroots solutions are different from and overlapping with electoral solutions.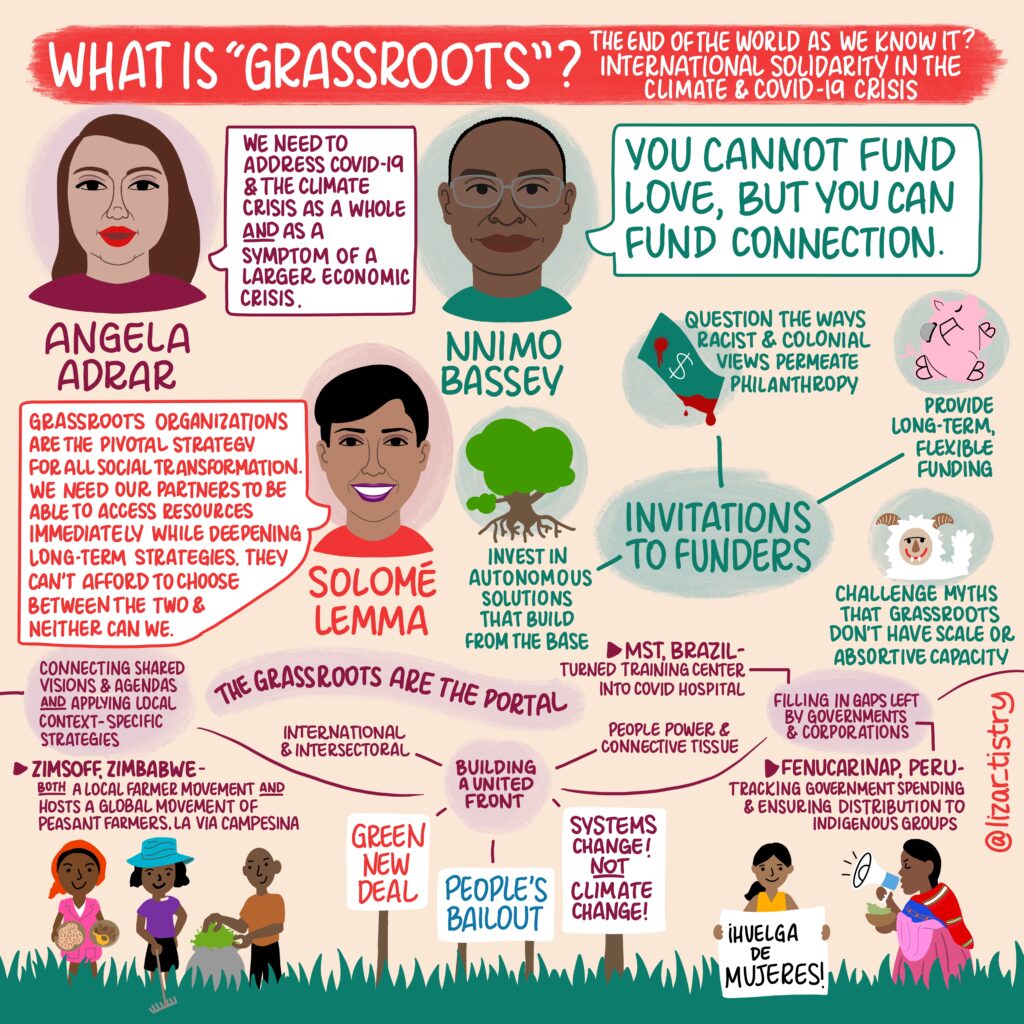 Speakers:
Angela Adrar (CJA)
Solomé Lemma (TC)
Nmimmo Bassey (Health of Mother Earth Foundation)
Key takeaways:
COVID-19 is not the crisis itself, but is rather exposing the underlying injustices and instabilities in our global systems.
Grassroots groups are responding in strategic and coordinated to the pandemic, including meeting immediate material needs, filling infrastructural gaps, and advancing long-term political & social change.
Speakers shared that they were invited to provide long-term, flexible funding to grassroots work, particularly right now. They were also invited to communicate with other funders to ensure we aren't making grassroots groups reinvent the proposal wheel time after time.
Funders often misunderstand 'grassroots' as meaning small, local, or with less 'absorptive capacity'. Yet, grassroots can also mean global and the capacity to absorb large grants. Grassroots groups can be scaled up, but also scaled out, growing through networks and trans-local organizing.
"Social movements are the essential workers of civil society."
1% of philanthropic funding goes to climate, only 1% of U.S. funding is moved beyond our borders, and less than 1% of international funding is unrestricted, highlighting how we export colonialism and racism through philanthropy.
There is no one-size-fits-all to organizing. International solidarity is needed to confront the global threats we face, and grassroots groups must innovate on the ground what tactics and strategies will build power based on their local contexts.
Further reading: CLIMA infographic breaking down what we mean by 'grassroots', the People's Solutions Lens and the CLIMA infographic unpacking what false promises are, Climate Justice Alliance's Just Transition Principles, This article by speaker Nnimmo Bassey about the unfolding COVID-19 crisis.
---
May 27: How grassroots movements work within, outside, and beyond the system
Directly addressing the myths that grassroots = small or grassroots only means protesting, with little power, away from the decision-making table. Unpacking the four types of grassroots climate solutions in the Soil to Sky report and the importance of frontline leadership.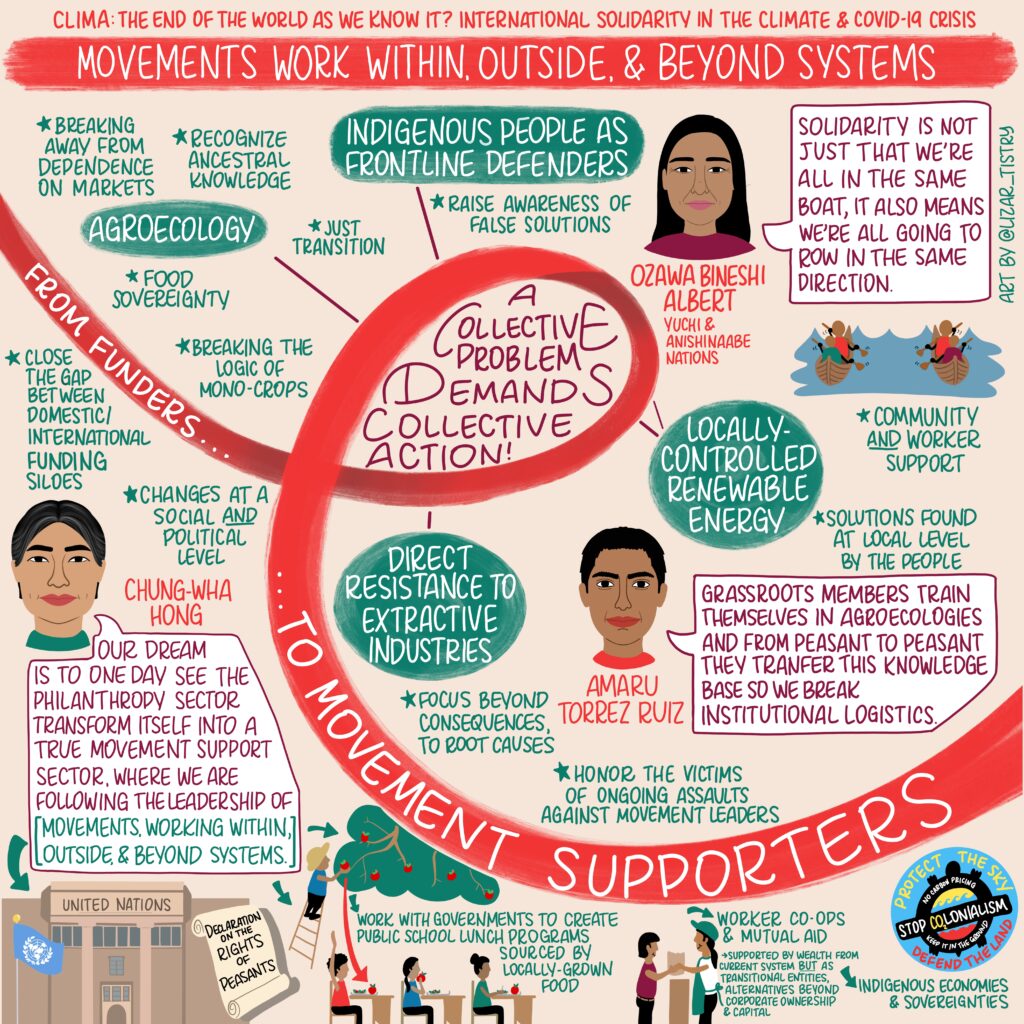 Speakers:
Ozawa Albert (Indigenous Environmental Network)
Amaru Torrez Ruiz (La Via Campesina)
Chung-Wha Hong (Grassroots International)
Key takeaways:
"The crisis is also an opportunity…inaction is the worst we can do."
Grassroots movements can reminagine systems in ways traditional philanthropy might not be able to. How are funders invested in the status quo and how can we embrace systems change?
To tackle threats such as a broken food system, funders cannot think just within national borders. Movements are and must be interconnected globally to advance climate justice.
Financial systems are determining industrial food systems, and are at odds with Earth systems. "We are focusing on the consequences, and not the root causes."
"This is not just a humanitarian moment, this is an organizing moment." Funders can ramp up support for movements' humanitarian and mutual aid work.
Many grassroots movements work inside, outside, and beyond systems of control. They advance change that resists, rebuilds, and reimagines in this COVID-19 moment.
Further reading: CLIMA's report "Soil to Sky: Climate Solutions That Work," CLIMA infographic unpacking 'false solutions' for climate change, African Climate Justice Groups' Statement on COVID-19 (of which La Via Campesina is a part)
---
June 18: Internationalism: Why the climate crisis requires action beyond borders
Understanding the role of imperialism and colonization in the climate crisis, and why international solidarity is critical from Global North philanthropies. The crisis, its drivers, and its impacts are global; so too much be the bottom-up strategies to address them.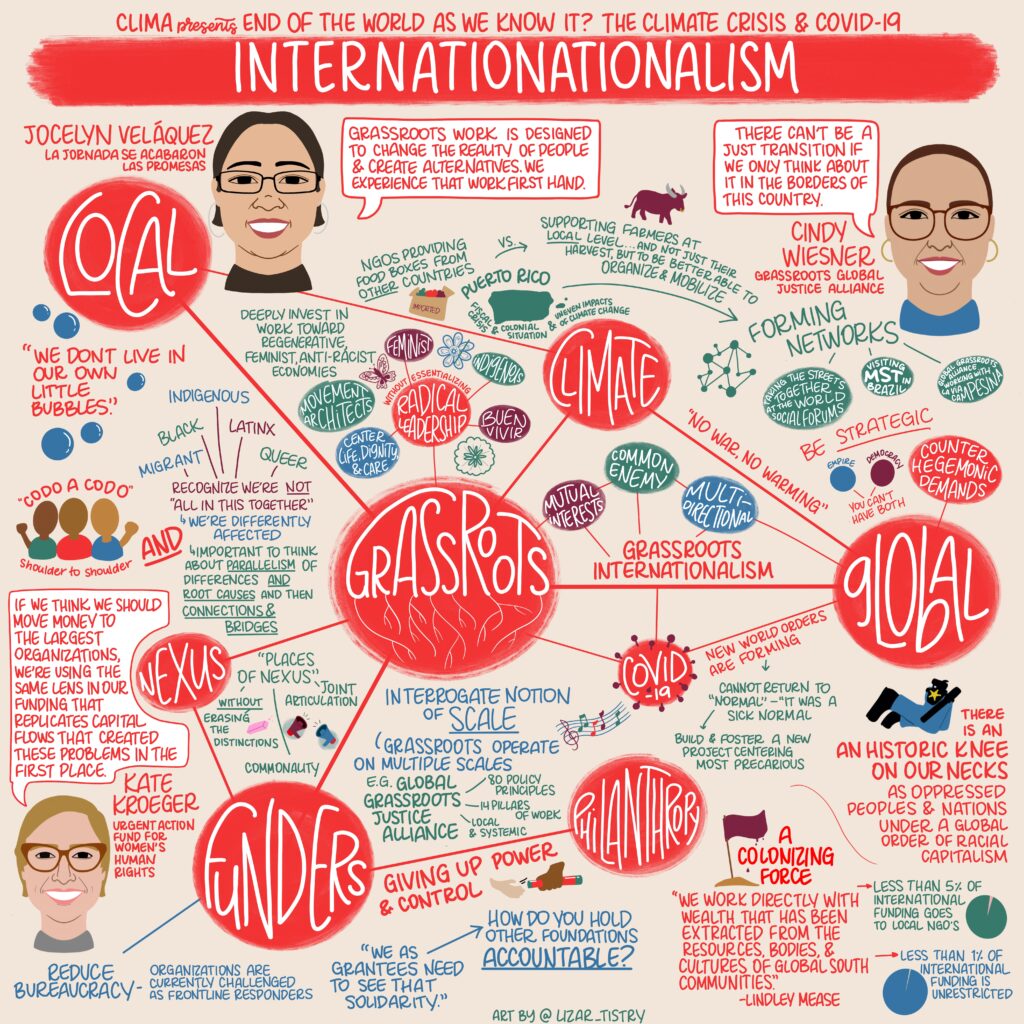 Speakers:
Kate Kroeger (Urgent Action Fund for Feminist Activism)
Jocelyn Velázquez (La Jornada: Se acabaron las Promesas)
Cindy Weisner (Grassroots Global Justice)
Key takeaways:
"Solidarity in grassroots internationalism is recognizing not that we're all in this together and it affects us the same, rather it affects us differently. We can have joint articulations and commonality in a place of nexus, but without actually erasing the distinctions and the differences."
"If we think that in moving a lot of money, we should move to the largest orgs, we are using the same lens in our funding that replicates capital flows that created these problems in the first place."
"It is important for us to create networks, connect efforts in different places, and not to replicate the same efforts; each one has their own focus and call, but we can coordinate and build broader agendas together."
We cannot just go on with more palatable options, even if they come from the grassroots. It is important to reflect on supporting incremental v. transformative change.
Further reading: Million Belay's "Africa Says, "I Can't Breathe": An African Civil Society Perspective on Systemic Racism"
---
July 22: The Nitty Gritty of Funding Grassroots Movements
Highlighting key lessons of how CLIMA members 1) are accountable to their grantee partners, 2) challenges to/mistakes in accompanying social movements and how they have overcome them, and 3) growth edges for working with grassroots movements in this ecological and COVID moment. This session will include a grantee partner speaking to how they have experienced trustworthy grant-making practices.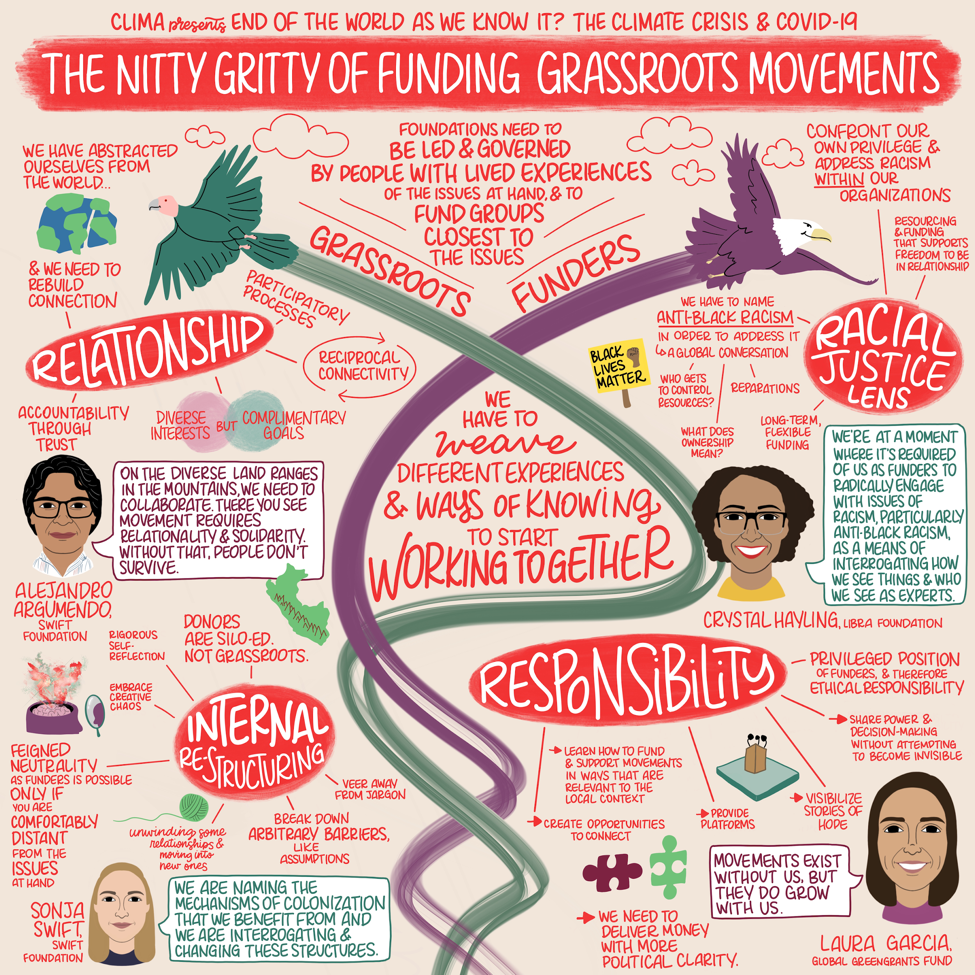 Speakers:
Alejandro Argumedo and Sonja Swift (Swift Foundation)
Laura Garcia (Global Greengrants Fund)
Crystal Hayling (Libra Foundation)
Key takeaways:
"Race is the sorting hat in America," so our work as funders should incorporate a racial justice lens. This will aid us in interrogating who we see as experts and movement actors. "We need to name the existing mechanisms that we continue to benefit from, like colonialism, interrogate these structures and habits of mind and change them,."
One speaker mentioned that while some funders and donors can or do not fund in the Global South, solidarity extends beyond grant dollars. We can share information, knowledge, and experiences.
Another speaker mentioned that studying "feminism as a tool to comprehend systems of oppression" taught them that these systems can be destroyed and that we can use the same thinking to understand and address environmental breakdown.
When we focus on climate justice as an energy issue, we focus on the issues of the big and the powerful. Climate justice also manifests in community care and embracing tradition.
We can engage in participatory processes and support grassroots without blurring our positions and romanticizing grassroots. It is our responsibility to share power and acknowledge that "neutrality does not exist." Instead of solely "giving up power," we can engage in deeper thinking on how to listen, share, support, learn, grow?
Further reading: Solomé Lemma, "25 Powerful Ways Funders Can Support Social Movements," Ayana Johnson, "I'm a black climate expert. Racism is hurting my work," CLIMA's infographic: Why Fund Intermediaries
---
August 18: Integration and Commitments
What actions participants are taking as a result of this series and how we can support each other as a community of practice moving forward.
Speakers:
Laura Garcia (Global Greengrants Fund)
Solomé Lemma (Thousand Currents)
Chung-Wha Hong (Grassroots International)
Kate Kroeger (Urgent Action Fund for Women's Human Rights)
Key Takeaways:
Grassroots groups are advancing tailored, sophisticated responses to the global COVID-19 and climate crises. We, as funders, can continually re-frame scale to help others understand the importance of place-based solutions that have an internationalist analysis (see this example here).
Funders can break down the silos we often work in and understand the nuance and context of grassroots groups, which requires time and effort. "As we build the knowledge, move the money".
We must integrate an ecosystem approach to our grant-making. Movements have the intelligence of plural strategy (from disruption to reform, informal to formal movement strategies); we need to as well.
We can act beyond moving money, by showing up in the streets, in the newsroom, and helping make connections to other Global North resources.
Money is complex, for funders and for movements. We can engage in honest and open inquiry about how to bring integrity to working with a force that can corrupt, complicate, and empower.
Many intermediaries are gatekeepers, and we all must be critical of our roles in philanthropy. Public foundations can do much more than move money, such as providing technical assistance, advocacy, and connections to other grassroots groups.
As Ash-Lee Henderson of the Highlander Center says: "Fund us like you want us to win".