In philanthropy, 'grassroots' is often equated with 'community' and with 'small-scale'. Grassroots solutions do come from the community, but they are not often small. And because grassroots solutions come from the people most impacted by the problem they seek to solve, they can be more effective and holistic in the problems they address.
As communities around the world are facing increasing impacts and threats from the climate crisis, funders have a unique opportunity to invest in movements building locally, nationally, and internationally. The climate crisis demands that "business as usual" stop and transform, and that includes philanthropy.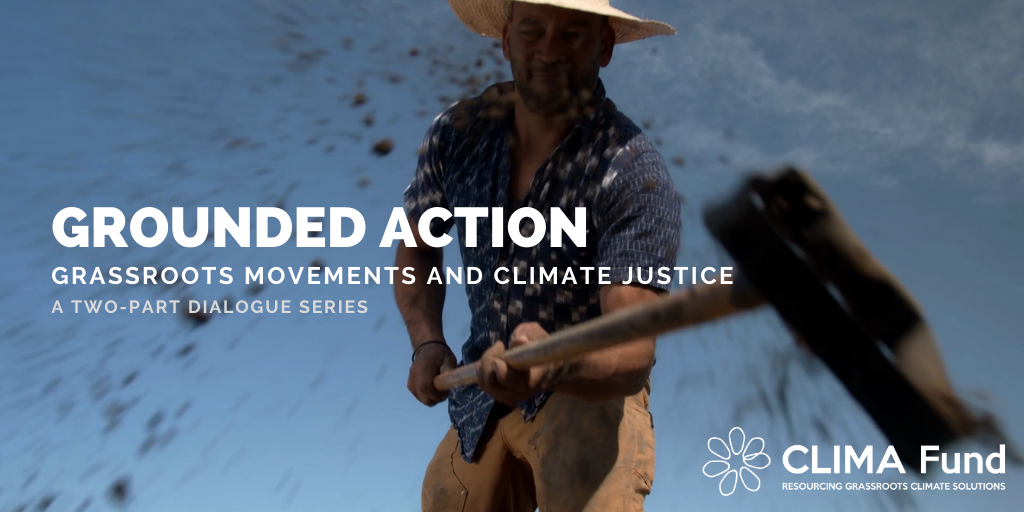 The CLIMA Fund organized Round III of our Underpinning Stories Dialogue Series Grounded Action: Grassroots Movements and Climate Justice in April 2021.
In this two-part dialogue series, speakers from grassroots movements and philanthropy unpacked the many different forms of grassroots action in confronting the climate crisis, and heard directly from frontline voices on the inroads for -and the hurdles facing -grassroots movements. The series addressed the question, "What role does philanthropy play in supporting action towards justice, collective health, and sustainability?"
Co-Sponsors:
Philanthropy California, Environmental Grantmakers Association, and Smart Growth California.
---
April 9: Session 1
Session 1 addressed the following dialogue questions: What is 'grassroots'? Why & how are grassroots movements the greatest hope for minimizing climate impacts? How grassroots movements work within, outside, and beyond the system. The session outlined the four types of grassroots climate solutions in the Soil to Sky: Climate Solutions That Work report, the importance of frontline leadership, and the characteristics of grassroots solutions.
Speakers:
Wendy Cruz, Technical Advisor, La Via Campesina (International Peasants' Movement)
Solomé Lemma, Executive Director, Thousand Currents
Maria Lopez-Nuñez, Deputy Director of Organizing and Advocacy, Ironbound Community Corporation / Climate Justice Alliance
Key takeaways:
"We need to globalize the struggle and globalize the hope." – Wendy Cruz
"You can't bring transformative change without justice and equity." – Solomé Lemma
"Organizing at the grassroots level is key for scaling solutions. What seems small represents a seed that is being planted, which will ultimately shift power dynamics and start the transformation of our society." – Maria Lopez-Nuñez
Wendy shared that women have a crucial role to play in the fight for climate justice. Women climate actors are showing up out of their love of the planet and for their families, instead of monetary interests. Women farmers are practicing agroecology because they know it strengthens their families' and communities' well-being.
Maria shared an example of rewriting the rules and passing a historical environmental justice legislation in New Jersey. Instead of playing whack-a-mole with resisting every new industrial development, grassroots groups in the state lobbied the legislature to strengthen the laws enforced by the Department of Environmental Protection. She shared that stopping individual factories might not look like much for the bigger picture, but it gets us closer to the root causes.
"Organizing at the grassroots level is key for scaling solutions. What seems small represents a seed that is being planted, which will ultimately shift power dynamics and start the transformation of our society. And it has to start at the bottom. We need to change the fundamental parts of our society that got us to this point," shared Maria. Carbon fundamentalism is not going to help us achieve transformational change. She added, "you have to let those whose lives are personally affected by the climate crisis to lead, because they are the ones who will not compromise when they reach the negotiating table. This is life for death for them. Every detail in the bill is going to matter, because it is in those details their communities are sacrificed."
Solomé called on funders to meet the urgency of the climate crisis with abundance and spaciousness. She emphasized that there is room for a shift in values and perceptions surrounding grassroots groups, and for a shift in practice in the philanthropic sector. Funders can move away from the perception that grassroots = small. "Grassroots is where the power is built. Grassroots groups act on and impact on local, national, and regional levels." She also highlighted the need for a bit of redirection: reimagine scale not as a singular organisation getting bigger, but movements getting bigger. La Via Campesina is a good example of a movement at scale. La Via Campesina is an international movement where peasants' groups advance shared and coordinated objectives, which are then applied in locally-appropriate and contextualized ways. She also underlined the need for a shift in practice: "we're still funding grassroots groups with short-term and restricted funding, but the kinds of change they are working towards take decades to achieve." Funders have an opportunity to provide large, multi-year, and unrestricted funding to grassroots groups to see the impact grassroots groups can achieve.
"We are betting for life. We are betting to save our planet." Wendy shared that grassroots climate actors see the fight against climate change as a long process and are investing their lives in it. She invited funders to invest in grassroots groups' long-term processes which will result in grounded, sustainable outcomes, instead of funding solely with a sense of urgency. "I don't want to adapt to climate change, I want to reverse climate change."
---
April 16: Session 2
Session 2 unpacked the nitty-gritty of funding grassroots movements and why the climate crisis requires action beyond borders. It highlighted key lessons of how funders 1) are sharing or shifting power to their grantee partners, 2) challenges to/mistakes in accompanying social movements and how they have overcome them, and 3) opportunities for working with grassroots movements at this moment.
Speakers:
Doria Robinson, Executive Director, Urban Tilth
Angie Chen, Senior Program Officer and Community Engagement Director, Libra Foundation
Laura García, President and CEO, Greengrants Fund
Key takeaways:
"Doing work in solidarity with grassroots movements means internalizing the end goal within the philanthropic space where these end goals are defined by grassroots communities." – Doria Robinson
"Grassroots groups are part of the social fabric of communities. Grassroots actors help build a better life for themselves and hold governments accountable. They are a reference point in moments of crisis, but also in moments of opportunity." – Laura García
Angie shared the limitations of how those with power and resources set the agenda and then grassroots actors have to fit in those boxes. She shared the initial discomfort, but ensuing benefit, of letting grassroots groups lead the Libra Foundation. Grassroots movements understand the problem and have already defined the solutions. They have the vision and plans to address the crisis. She also underscored the benefit of letting grassroots determine timelines and indicators of success. This means that success is not measured in terms of emissions reductions or other technical measurements, but movement-building and impact on the root causes of the climate crisis. .
Laura highlighted how dominant Western definitions of success in the philanthropic sector contrast with how grassroots groups actually work. The over-emphasis on individual climate heroes instead of collective organizing lends to an incomplete understanding of grassroots action. Funders can let grassroots groups experiment and, if it so happens, fail. Grassroots groups are held to higher standards than mainstream organizations, which limits the kind of projects they implement. Funders have the opportunity to shift power, provide long-term funding, and engage in a cultural dialogue on how they can best support grassroots movements to lead us out of this crisis.
Doria shared a brilliant set of recommendations for funders to create a trusting and supportive relationship with their grantees:

Giving long-term grants of large sums is vital for grassroots to work towards their goals without the added worry of obtaining funding. Funders can also act as thought partners to share and develop ideas.
Funders can engage in peer organizing and political education to shift the perceptions of grassroots work in their networks.
Funders have the opportunity to connect grantees to each other and create learning circles on issues that are emergent and important for their grantee partners, while ensuring participation does not add unnecessary burden.
Funders can listen to their partners' needs and evolve their practice through the length of the engagement. This goes hand-in-hand with creating long-term, trust-based partnerships.
Funders can simplify application and reporting processes.
Philanthropy can exercise diligence to recognize where biased systems are in play and pivot to fairer grant-making practices.
To learn more about some of the concepts shared in these two dialogues, you can have a look at our first dialogue series, which unpacks funder narratives surrounding innovation, scale, metrics, capacity, and geography.