By Rajasvini Bhansali
Original article on the Environmental Grantmakers Association blog on June 6, 2018
I took my first toxic tour of South Durban, South Africa in 2012. Hosted by the South Durban Community Environmental Alliance (SDCEA), an organization led by Goldman Prize winner Desmond D'Sa, the purpose of the tour was to learn from community members how they were holding the most egregious corporate polluters accountable in their neighborhoods, in South Africa, and beyond.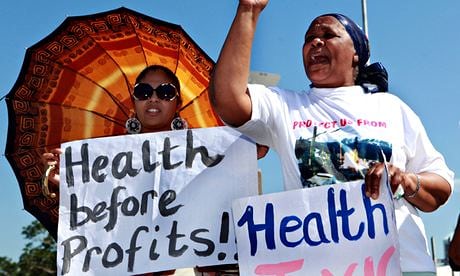 I sat in a room with a dear grandmother who had learned the bucket method to test and monitor air quality. She was part of the "bucket brigade," SDCEA's signature low-tech, high impact way for community members to collect air samples for identifying pollutants.
For her, having grandchildren drop out of school due to asthma was no longer acceptable. She knew that black and brown children who did not complete school would soon join a permanent underclass of oppressed service sector workers. So, for her own grandchildren and for the dream of liberation of all people, she took it upon herself to show up at every chemical leak or flare. She would be there to do the research and to educate, inform, and organize more people.
As a student of movement building, that day I learned about the power of responsiveness.
When your community is struggling every single day to breathe, your organization does not have the luxury to plan a meeting two months down the road.
You begin from where you are. You make information available and accessible so that every grandmother can imbibe it with ease and use it to transform herself into a changemaker.
SDCEA has also helped me see that you do not let the size of your budget determine the magnitude of your impact. With complete commitment, D'Sa and colleagues on the toxic tour talked about how together we would stop port expansion in South Durban. Together we would get our message to the South African government and their international financiers. We would name and shame all those who are implicated in displacing thousands of our people in this neo-apartheid time.
A few years later, I got to watch as they did in fact, stop the Durban port expansion dead in its tracks. SDCEA and local communities managed to deploy a strategic mix of advocacy and organizing to ensure that there was a groundswell of resistance combined with de-legitimization of the expansion project.
If SDCEA, with its grassroots base and small budget (proportionate to big philanthropy), can do all this to achieve climate justice, then why not us? Thousand Currents has the privilege to be based in the San Francisco Bay Area. We have over 30 years of experience working within global development and international philanthropy. Within our community are leaders, advocates, and changemakers in every sector. We move millions each year to grassroots organizing. We have the capacity to move millions more. And we are not alone.
Other public foundations like Global Greengrants, Grassroots International, Urgent Action Fund for Women's Human Rights have also been funding and fighting for decades. Inspired by the work of partners like SDCEA in our portfolios, Thousand Currents joined forces with these three funders following the 2014 Peoples Climate March to collaborate and take strategic action.
Climate justice is the moral imperative of our times, so together we refused to continue an age-old competition for a very thin slice of philanthropic resources carved out of the world's wealth. Instead, we came together to boldly imagine a future where we could be as responsive, community aligned, feisty, and prepared as SDCEA and our grassroots partners around the world. We imagined a future where we took our role and responsibility as funders so seriously that faced our fears and dared to imagine a well-resourced and connected global climate justice movement.
In fact, we put our organizational egos – what were petty differences and worries – aside to build that future together. Our resulting collaboration, the Grassroots Climate Solutions Fund, provides a continuity of multifaceted support – from emergency grants to multi-decade commitments – directly to grassroots organizations and social movements made up of those most impacted by climate change: Indigenous Peoples, small-scale farmers, Afro-descendent communities, women, and youth across the Global South. The Grassroots Climate Solutions Fund aims to raise and re-grant a minimum of $10 million over the next five years to support organizations and communities tackling climate change. We unleash solutions that blend traditional knowledge with advocacy, movement and alliance building, storytelling, and inclusion in all levels of decision-making.
For me and for the other funders, this fund is not built on merely an idealistic, aspirational perspective, but on conviction grounded in many decades of walking alongside "bucket brigade grandmothers" and supporting many more of the fiercest community-led actions in the world.
I believe we are going to witness a complete and total decimation of the fossil fuel industry in our lifetimes.
I know that the efforts of community organizers, policy advocates, environmental litigators, and progressive alliances, coalitions, and networks fighting for our future will win.
This is why we choose to spend our time and our organizations' attention on preparing, resourcing, and elevating what grassroots leaders tell us is possible; that is breathable air, drinkable water, edible food, and the fundamental human right to dignity, health, and a livable planet for us all.
When grandmothers become community scientists, when neighborhoods unite across race and class differences, when grassroots groups create movement infrastructure, and when funders collaborate with each other and with movements in solidarity, we – all of us – make climate justice possible.